Medication Management Tips and Tools
Older adults (65 years or older) are three times as likely to go to the ER for adverse drug events and nearly seven times more likely to be hospitalized after an emergency visit.
Different medications. Different dosages. Different times of the day. It's no wonder medication management can be a challenge for seniors. An effective plan for managing the medications of your loved one begins with 2 considerations–people and tools. Ask the questions:
Who is the right person to oversee a loved one's medications?
What tools are available to assist in the correct delivery of medication?
Who's in Charge?
Who comes to mind when you think of someone who is organized, competent, and trustworthy? The person you put in charge of managing someone's medication should possess these traits. You might think of a daughter, a spouse, or a neighbor. You might think of a nurse.
You can also choose a skilled home health agency (like Nurse Next Door) for medication management. A skilled home health company will ensure all their nurses are trained and licensed. They will also have backup nurses if your regular nurse is unavailable.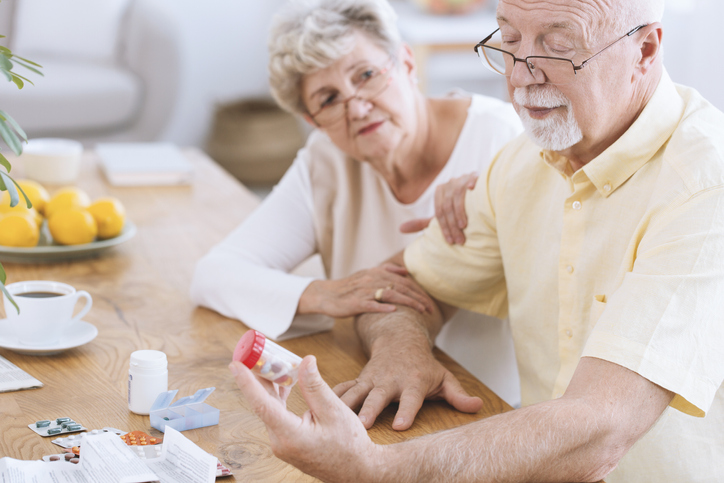 Medication Reminder and Delivery Tools
There are so many products on the market today that help ensure the accurate and timely delivery of medication. From simple pill boxes to more technological gadgets, there are delivery tools to suit many different needs.
Whether taking daily supplements and vitamins or prescription medications for specific conditions, many of us can appreciate a little help with planning and remembering to do so.  A pill box like the EZY Dose One-Day-At-A-Time at Walgreen's makes it simple. We love the easy open tabs, the 2x and 4x per day options and the large bins for more medications. At under $10, this pill box is a great tool!
Consider a cell phone app. Most people have a cell phone and it's something they usually have within close reach. Here are the top 5 medication apps that can help you or a loved one take the right medication at the right time.
A MedCenter Talking Alarm Clock is a timed voice prompt that can enhance the pill box method. A pre-recorded message ("Dad, time to take your pills.") is scheduled to play throughout the day when it's time to take medications.
The MedCenter Reminder System combines the talking alarm clock with a pill planner system that's a bit more elaborate than a pill box.
Nurse's Note: Some talking alarm systems come with a pill box system that opens one main lid to reveal all the individual compartments. Even though all the medications are separated and labeled for day and time, there is a greater chance of taking the pills from the wrong slot, forgetting what day it is, or even spilling the entire container. We prefer separate closures for each day.
The MedCenter Talking Alarm Clock and the MedCenter Reminder System work well for people who are competent, but, like many people, can be forgetful. If you are caring for someone who is not competent (read about mental competence here), you can still use these systems but we recommend having someone monitor them and watch for signs that indicate it is time to advance to a more sophisticated system. Some suggestions:
Livi is an automated pill dispensing machine that can hold up to 90 days of medications and dispense up to 15 pills at a time. A caregiver can receive text alerts when medication is dispensed or if a dose is missed.
Phillips Automated Medication Dispensing Service is another option for complex medication management. Medication is loaded by a caregiver who provides the dispensing schedule to Phillips. Phillips programs the dispenser. An alert is sounded when it is time to take medication. At the push of a button, the pills are dispensed. The dispenser is connected to the telephone line, so if a dose is missed, the dispenser can contact you or another family member. You can then check on your loved one to make sure they are getting their medication.
Medication management is a critical component of a total care plan. According to an article in Drugs & Aging (2005), as many as 200,000 people may die of medication-related problems each year in the United States. There are so many options to help seniors and caregivers manage a safe and consistent medication plan. Don't become another statistic.
Get complete peace of mind. Nurse Next Door is one of your biggest advocates as you and your family navigates through the medical system. Please call +1(877) 588-8609 to arrange your FREE Caring Consult.