Family Caregiver Depression: What Is It and What Are Some Solutions?
Did you know that family caregivers have a much greater chance of developing depression than if they were not caring for someone who wasn't a relative?
Quite commonly, family caregivers experience depression while caring for a loved one due to the intense demand and stress of the work.
According to the Family Caregiver Alliance, "a conservative estimate reports that 20% of family caregivers suffer from depression." Caregiver depression can lead to caregiver burnout and other health issues.
Because caregiving is such an intense activity with lots of stress, it's easy for caregivers to neglect their physical and mental health. Caregivers need to know the signs of depression in themselves and others to get the help they need.
Find out why depression is so common in caregivers, the symptoms to look for, and what you can do to feel better!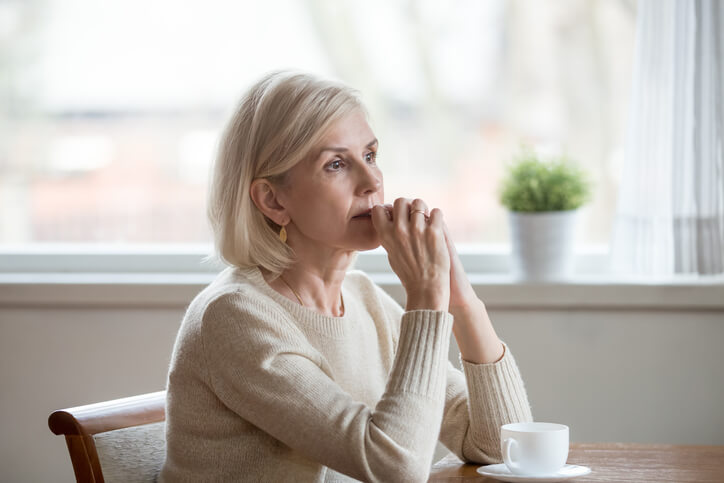 What Is Chronic Depression?
Naturally, it's completely normal to feel blue sometimes, especially after a significant life event. Chronic depression, on the other hand, is a diagnosed mental health condition that affects a person's thoughts, behavior, physical health, and well-being for a prolonged period.
Caregiving does not directly cause depression, nor does caring for a loved one always trigger negative feelings associated with depression. Rather, Caregivers have many caregiving responsibilities and put so much effort into caring for their family members that it can take a heavy toll on their own health.
There is no single root cause of chronic depression—instead, it could be the result of several factors that may include genetics, lifestyle, trauma, significant life events, stress, and environmental influences.
Who Is at Risk for Depression?
Some individuals risk developing depression at some point in their lives. Caregivers, especially, are among those individuals who develop depression at twice the rate of the general population, according to the Family Caregiver Alliance. Because caring for an aging relative is a high-stress, isolating job, caregivers have a higher-than-average risk of developing depression.
Caregiver burnout, or "caregiver stress syndrome," can disguise itself as depression.
To provide the best possible care to a family member, caregivers can neglect their physical health and emotional needs. The resulting feelings of caregiver stress, anger, anxiety, sadness, isolation, exhaustion, caregiver burnout—and then guilt for having these feelings—can create a heavy toll.
Other Factors That Could Contribute to Chronic Depression
Several other factors may also increase a person's risk of developing chronic depression. Examples include:
A family history of depression
Childhood trauma
Alcohol and drug abuse
Chronic physical illness
Chronic stress
Poor physical health
Isolation and loneliness
A series of life events that result in trauma and/or loss.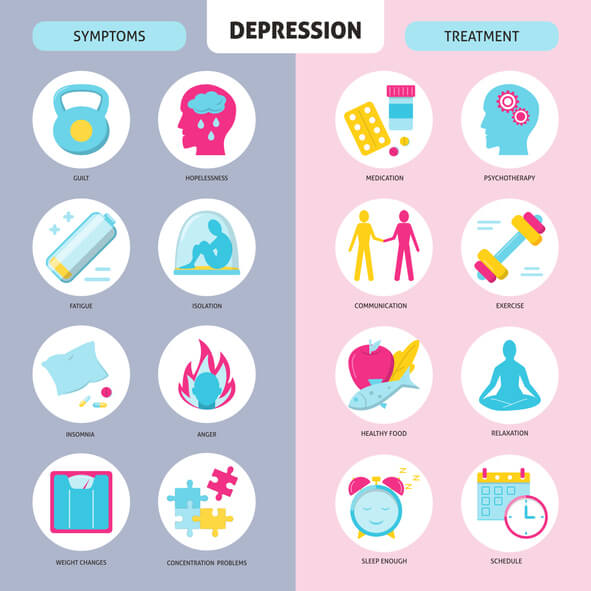 What Are the Symptoms of Caregiver Depression?
Someone with depression is likely to have more than one of these symptoms:
Low self-esteem
Restlessness
Insomnia or too much sleep
Weight gain or loss
Lethargy
Forgetfulness
Excessive guilt
Loss of interest in social activities
Feelings of hopelessness
Thoughts of self-harm or suicide
If you or other family members are experiencing one, or more of these symptoms of depression, it is advisable to seek support from a mental health professional and seek treatment.
There are several resources, including caregiver assistance and caregiver support groups, that could help.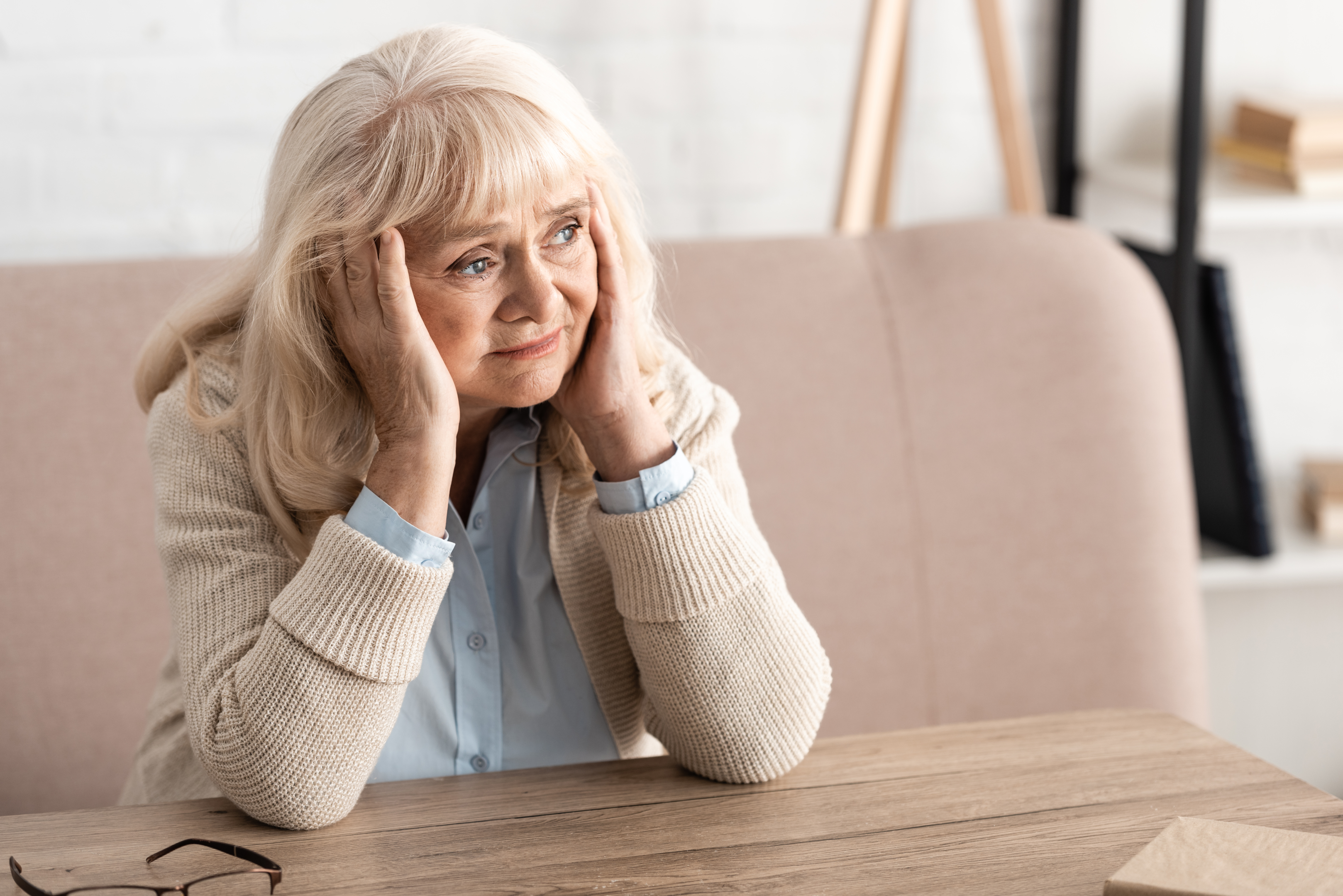 Caregiver Burnout vs. Caregiver Depression
Caregiver burnout, or "caregiver stress syndrome," can disguise itself as depression. It is a condition characterized by physical, mental, and emotional exhaustion. Similarly to depression, caregiver burnout possesses similar symptoms to caregiver depression.
Some signs of caregiver burnout include:
Frustrated easily
Uninterested in things you used to enjoy
Forgetful or experiencing brain fog
Extremely tired
Feelings of hopelessness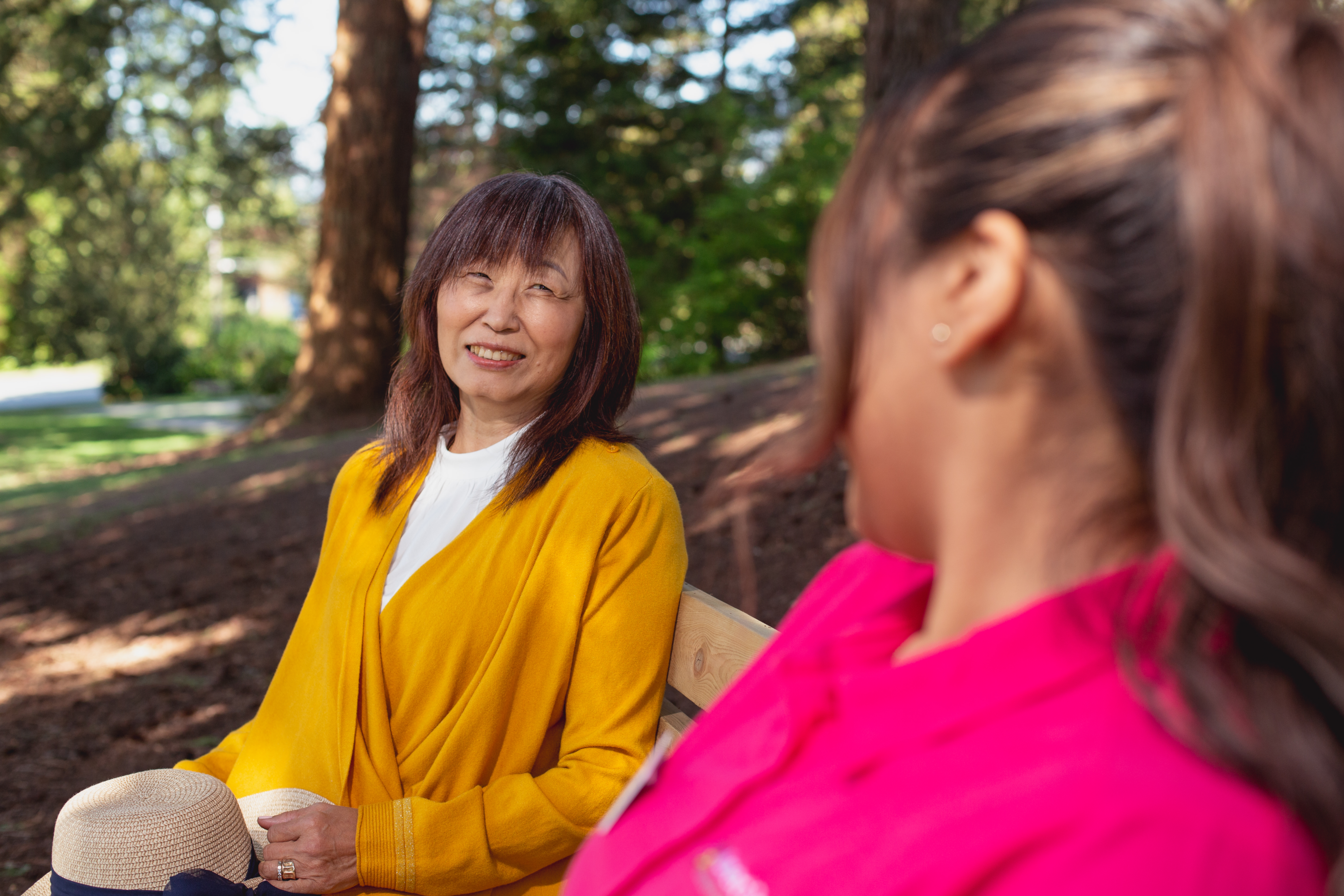 Four Solutions for Caregivers Experiencing Depression
If you, or a caregiver you know, are experiencing symptoms of caregiver burnout or depression, we've listed four solutions to help you feel better fast.
1. Practice Self-Care
The first step to feeling better is to practice self-care and relieve yourself of the chronic stress you face daily.
Self-care is different for everyone.
Some people enjoy social activities, while others want to practice physical activities. Whatever it is, you have permission to practice self-care that makes you feel good!
Many stress-relieving self-care activities can help you reduce depression. Some examples are:
A daily walk outside
Spending quality time with friends and family
Playing a sport or physical activity
Getting a good night's sleep
A healthy diet
A greater focus on hygiene and well-being
2. Hiring a Home Care Provider or Respite Care Services
Hiring a home care provider and getting assistance with caregiving responsibilities can help tremendously. It will alleviate some caregiver stress and give you time for yourself. Home care providers can come in as often as you'd like and even help regularly with housekeeping, cooking, shopping, and laundry.
They can even help with bathing, dressing, grooming, and companionship.
It's okay to ask for help and take a break now and again. It may be essential to your own health. Respite care may be just what you need!
Respite care provides short-term relief for primary caregivers. Many respite programs can give you and other family members space away from your caregiving duties to relax, recharge, and return to the person you care for with more energy and renewed focus.
3. Talk to Someone
Talking about your symptoms of depression and caregiver stress could help you in the long run.
You need to pay attention to the signs of depression to get the required help. Keeping your feelings to yourself could contribute to greater stress and anxiety and make your depression much worse.
If you can't talk to a friend or family member about your symptoms of depression, attend a caregiver support group, or if you feel you need help from a professional, it is best to seek treatment from a qualified counselor or therapist. They will be able to advise you on how to cope with your depression and assist you with a plan on how to heal.
If you have severe chronic depression, psychologists or doctors may also be able to prescribe antidepressant medication that might be beneficial in combination with counseling.
4. Positive Lifestyle Changes
Changing your lifestyle could be just the key to feeling better fast. Lifestyle changes include more exercise, a healthy diet (including a reduction in alcohol, caffeine, and sugar), consistent restful sleep, and meditation. By making minor tweaks to day-to-day life, you can start to slowly but surely relieve caregiver burnout and depression.
Maybe it is time to re-configure your routine.
Create a routine that reflects a positive lifestyle change. Daily meditations, meal prepping, scheduled bedtimes, and weekly exercises could relieve some of your stress and positively alter your health and well-being!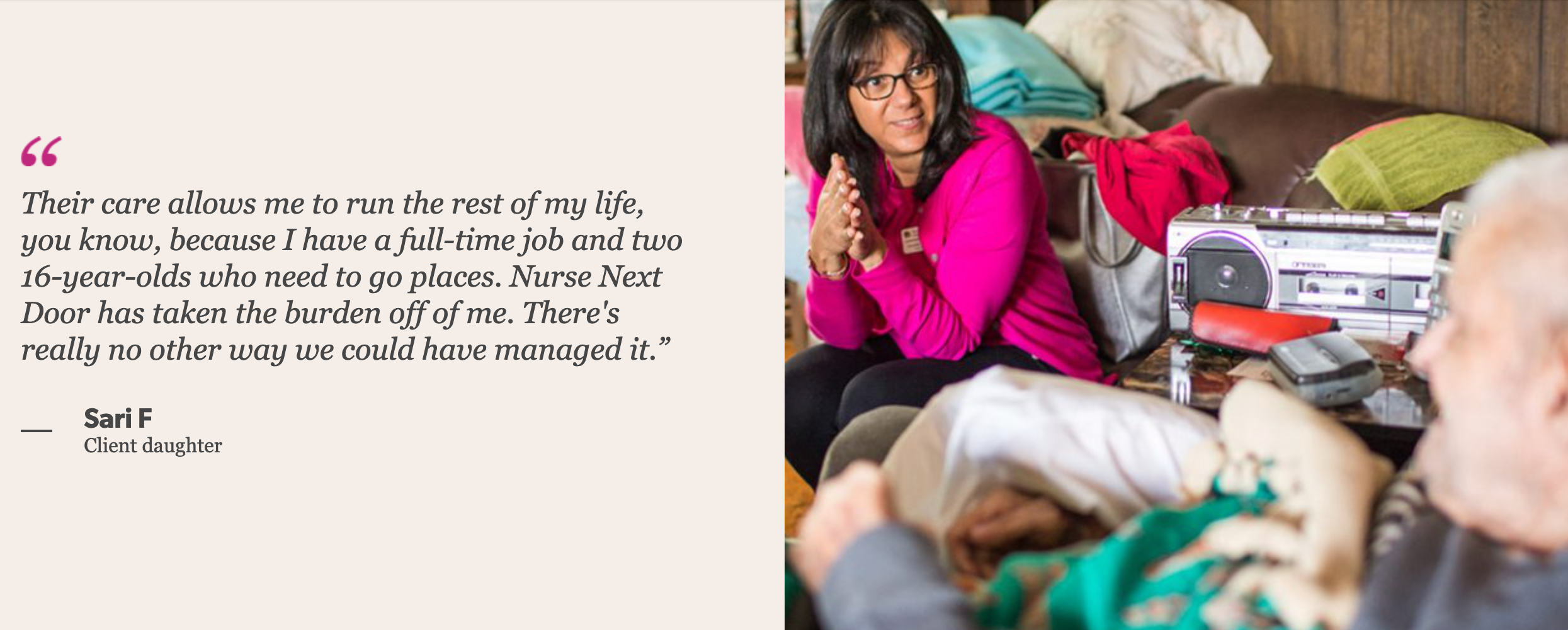 Caregiver burnout doesn't have to be your story.
Building up a support network of friends, family, community organizations, home care providers, and support groups can give you the solid foundation to emerge from depression and lead a happier, healthier life.
If you or a family member are experiencing symptoms of chronic depression—please visit your family physician for proper diagnosis, support, and advice.
---
We know it takes time & energy to care for a loved one. Learn how our Respite Care Services can support you.