Signs of Caregiver Depression You Can't Ignore
In our previous blogs, we discussed 2 Things You Need to Know as a Family Caregiver and what Caregiver Burnout is. The common issue that family caregivers experience is depression.
Did you know that family caregivers have a greater chance of developing depression than if they were not caring for an aging relative? Because caregiving is such an intense activity with lots of stress, it's easy for family caregivers to ignore their own physical and mental health. It's important for family caregivers to know the signs of depression in themselves and others as well as what they can do to get help.
What is Chronic Depression?
It's normal to feel blue after a significant life event, but chronic depression is a diagnosed mental health condition that affects a person's thoughts, behavior and physical health and wellness. There is no single cause of depression—instead, it seems to be a result of several different triggers that include genetics, lifestyle, and continuous events and environmental influences.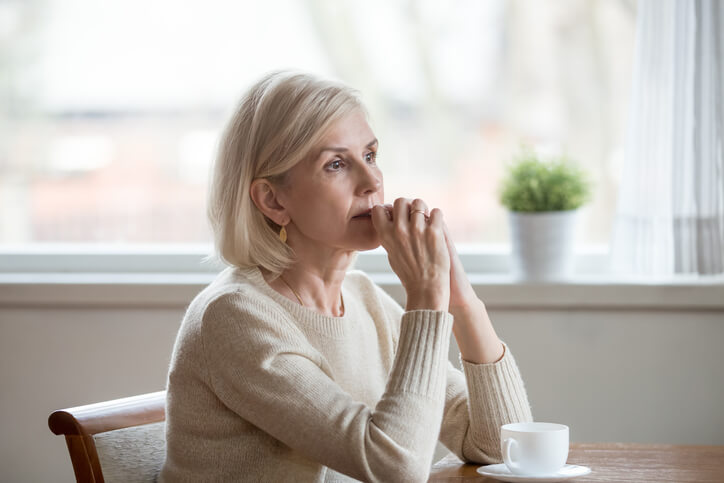 Who is at Risk for Depression?
There are numerous factors that may increase a person's risk of developing chronic depression. Examples include:
a family history

childhood trauma

alcohol and drug abuse

developing a chronic physical illness

chronic stress from caregiving

isolation and loneliness

a series of life events that result in trauma and/or loss.
Because caring for an aging relative is a high-stress, isolating job, family caregivers have a higher than average risk of depression.
What are the Symptoms of Depression in Family Caregivers?
Someone with depression is likely to display more than one of these symptoms:
low self-esteem

restlessness

insomnia or oversleeping

weight gain or loss

lethargy

forgetfulness

excessive guilt

loss of interest in social activities

feelings of hopelessness

thoughts of suicide
Too many people equate chronic depression with "feeling sad all the time." However, many people that suffer with depression don't necessarily feel sad and cry frequently and can function quite well.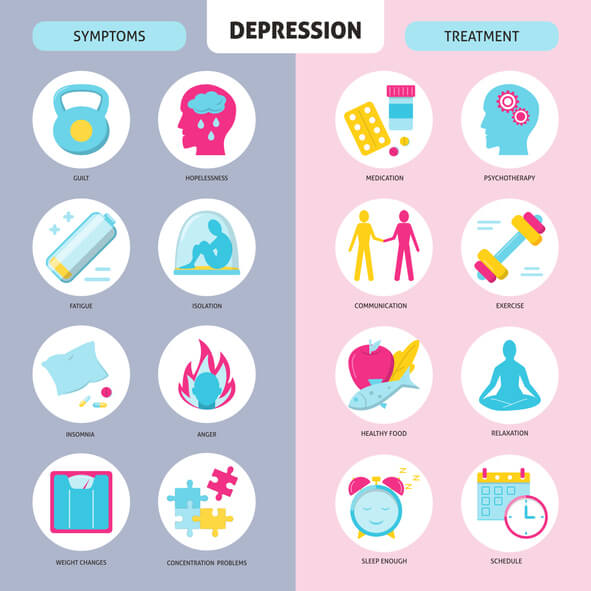 What is the Treatment for Depression in Family Caregivers?
The first step in dealing with depression is for the family caregiver to practice some self-care and relieve themselves of the chronic stress they face. Hiring a home care provider and asking family and friends to help with the aging relative can give the family caregiver a chance to focus on themselves. Home care providers can come in regularly to help with the elderly relative by assisting with housekeeping, cooking, shopping and laundry. They can even help with bathing, dressing, grooming and provide companionship.
Doctors might prescribe anti-depressant medication. It might be beneficial to combine it with counselling from a qualified therapist. They can also make modifications to their lifestyle so their body is better able to withstand depression. Lifestyle changes include more exercise, healthy diet, restful sleep and meditation. By making small tweaks to day-to-day life, you can start to slowly but surely alleviate caregiver burnout and depression.
It's important for you to pay attention to the warning signs of depression so you can get help. Building up a support network of friends, family, community organizations, home care providers and support groups can give you the solid foundation you need to emerge from depression and lead a happier, healthier life.
We know it takes time & energy to care for a loved one. Learn how our Respite Care Services can support you.