In-Home Care vs Assisted Living Facility: A Comparison Guide
Finding the best living situation for yourself or aging loved ones can be a struggle for many families as they wade through different options. While we are advocates for Happier Aging at home, this post is not meant to persuade you to always use home care. We're here to be a resource for you, to help you (or your loved one) age the way you want—with choice and dignity—in a place where you want to be.
We've identified and compared 7 aspects we know to be essential when In-Home Care VS Assisted Living Facility (ALF). Let's take a look:
Space
Consider the space where you or your loved one will feel most comfortable and what their preferred size of living area is.
In-Home Care
Primary place of residence. A bedroom on the first floor or putting a bed in a room on the ground floor is highly beneficial, as is a first-floor bathroom. Home is, of course, as big or small as you have.
Assisted Living Facility
Square footage generally ranges from 250sq. ft. to 600 sq. ft. for a room. ALFs vary widely in-room options (private, double occupancy, multi-room suites).
Medications
Managing medications is a crucial part of a Care Plan. Both in-home care and Assisted Living Facilities can excel at staying on top of a client's medications.
In-Home Care
Skilled home health agencies can come into the home to provide and administer medications. Additional resources that can verify medications are taken (i.e., like the Livi or a Medication Compliance program from SafeinHome) can help your loved one stay medication compliant at home.
Assisted Living Facility
Nurses oversee and administer medications. For most Assisted Living Facilities, the more medications your loved one has, the higher the monthly cost of care.
Socialization
This mainly means spending time with friends and family. Attending exercise classes, church gatherings or pursuing a favorite pastime. Socialization opportunities such as these promote physical, mental, and cognitive benefits for seniors.
In-Home Care
Socialization in the home setting is focused on encouraging family and friends to come to your loved one's home or having your loved one venture out for lunch dates, bus trips, exercise classes or any social event (if physically able). Having a home care company means they can come visit and provide companionship and even support in transportation and accompaniment to appointments and activities!
Assisted Living Facility
Socialization in the assisted living setting is easy because it's quite accessible. Most assisted livings have an activities director to coordinate activities ranging from chair yoga to playing games to watching a school choir come and perform. This is a perk to living at an ALF.
Safety
Evaluation, prevention, and early detection are the pillars of safety whether in the home or in an Assisted Living Facility.
In-Home Care
Prevention and early detection are the main focus around safety in the home. Even with a person present 24/7, Mom or Dad could still have a fall related to a variety of environmental and physical factors. In-home care agencies help clients create a safe environment in their homes by:
Performing a Home Safety Evaluations and making adjustments

Creating

a Care Plan with physical exercises and the use of adaptive equipment

Taking advantage of early detection devices that detect and send alerts in the case of a fall (

SafeinHome

is one example)

.
Assisted Living Facility
Just like in-home care, prevention and early detection are the goals of an assisted living facility. An ALF is designed to keep clients as independent as possible, which means they often don't have any more oversight than an individual would in a home environment. Systems like SafeinHome can work in an ALF just like it can in the home. Something to be aware of: Safety precautions often aren't as customizable in an ALF as they are in a home environment.
Dementia Care
Deciding on care for a loved one with dementia or Alzheimer's disease can be one of the toughest decisions. In many cases, there is a desire to keep a loved one in familiar surroundings for as long as possible
In-Home Care
1-on-1 personalized care in familiar surroundings is a benefit to home care. In-home care can also be a great support to one's primary caregiver.
Assisted Living Facility
The typical ratio may be closer to 5 clients to 1 staff member. Not all ALFs have memory care units or they are best suited for those in the early stages of the disease. A memory care unit is typically a separate wing or residence of a facility that is staffed 24/7 by staff who are specifically trained to care for the needs of dementia patients.
Cost
Understandably, the cost of care is a major consideration. Consider care as an investment into your loved one's quality of life. Still, we know that sometimes money is the biggest factor into how much care can be obtained. Think about "what is the alternative to this cost?" For example, home care may sound expensive until you see the costs of burnout, losing a job/taking off work to provide the care yourself, or using a facility. Genworth provides a widely used long-term care calculator to help you gauge the cost of care in your area.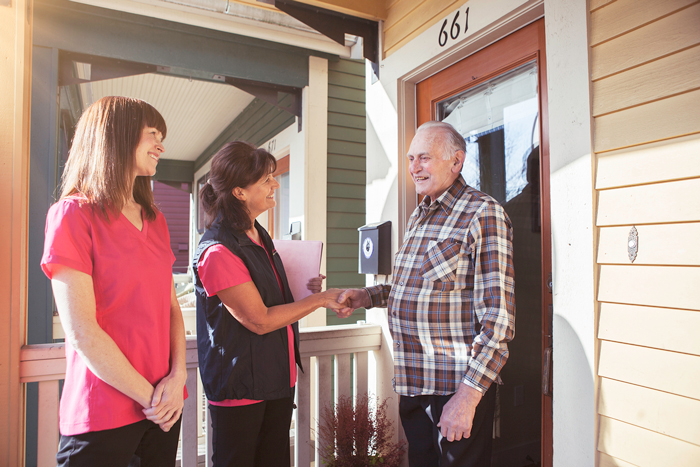 In-Home Care
Depends on the availability of additional resources and level of care required. To a certain point, home care is cheaper than an ALF; 24/7 in-home care is not. There are multiple options instead of doing 24/7 care (i.e. technology to supplement actual people care). Nurse Next Door Hourly rates for in-home care range from $18-30 for Instrumental Activities for Daily Living, $20-35 for Activities of Daily Living, and $50-130 for nursing care.*
*= Hourly rates vary for each location and is dependent on level of care. Give us a call +1(877) 588-8609 to learn about Nurse Next Door home care services' pricing in your local area.
Assisted Living Facility
Most have a base price or "Level 1" price. Depending on the level of involvement required (personal care, medication management, etc.), the price increases.
Care Coordination
"An ounce of prevention is worth a pound of cure." And so it is with Care Coordination. Care Coordination exists to help your loved one maintain a normal life while staying on top of health concerns before they snowball into health crises. Scheduling and attending important medical and non-medical appointments, coordinating social activities (loneliness is the biggest contributor to depression in older adults), and bringing in or recommending additional resources are all functions of Care Coordination and work to prevent issues before they arise.
In-Home Care
Varies based on agency. Having the right agency that can actually manage all of your care and coordinate the details can be the key to success for aging in place. 
Level of care can all be customized, whether it be a few hours a day, few times a week, to around the clock care. Wondering what the difference is between live-in care and 24 hour care? Check out our article here.
Assisted Living Facility
Typically streamlined and overseen by an on-site Director of Nursing.
Choosing Both
Did you know that home care could actually be provided at an Assisted Living Facility to supplement one's care? It is yet another option to consider. Like most options, in-home care and assisted living can both be the right option for you. And that can be a good "problem" to have. If your family is struggling with this decision, know that you are not alone. A Care Specialist at Nurse Next Door can take your unique situation into account, help you weigh the options and design a Care Plan for your loved one.
Nurse Next Door can help your loved one by providing companionship, meal preparation or around-the-clock care, learn more about our senior home care services!