How to Create Space for a Live-In Caregiver
When your loved one enters a new chapter where they need consistent assistance, bringing in a live-in caregiver can serve as a viable solution. In another blog, we discuss the difference between live-in caregivers and 24 hour care. Moving another person into a space that was adapted to fit one person isn't an easy task. We have some tips and pointers to prepare for and get used to this new change in living.
Downsize Gradually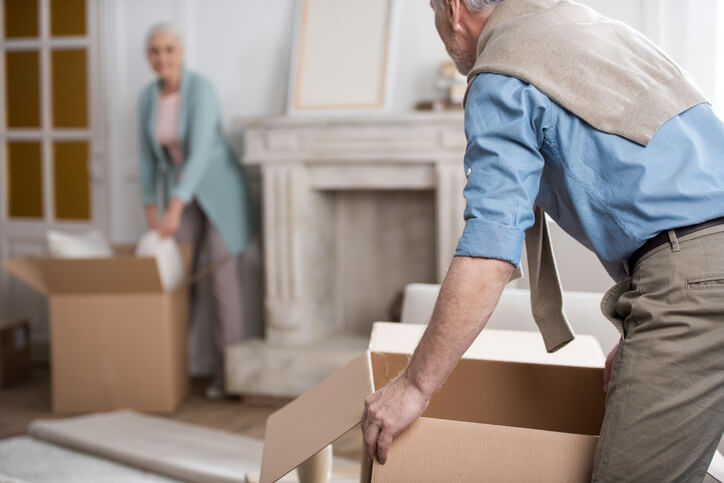 After making the decision to move in a caregiver, don't rush to purge your loved one's home of their belongings in order to make room. Agreeing to share space with a live-in caregiver is simultaneously complying to forfeit a piece of their independence, which can be emotionally taxing. Additionally, attempting to clean out a home in a short period can be physically draining.
Make a downsizing plan and allow for six to eight weeks for implementation before a caregiver finally moves in. Aim to tackle an area of the house per week in order to help the change feel organic. If your loved one is having difficulty with letting go of their belongings, pack them up and move them to a garage or off-site storage. Once the caregiver moves in, return items they really miss or deem essential and donate the rest.
Add More Bathroom Space
An extra body can make a large impact on bathroom schedules, especially if your loved one experiences incontinence and needs immediate access to the bathroom at all times. In order to prevent conflicts with bathroom needs, consult a local plumber near you to plan the installation of a second full-bath or half-bath.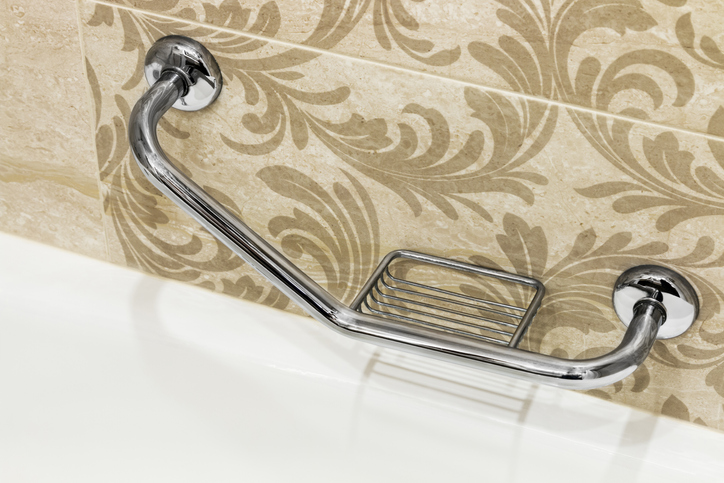 If the home is two levels, consider opting for a full bath on the first floor and designating that as the bathroom for your loved one. Basically, you're minimizing accidents and making the space even more accessible in case of emergencies. This will also allow for a specific bathroom that is designed with accessibility in mind- you can build grab bars, non-slip flooring, or walk-in tubs right into the blueprints rather than remodeling years laters. Check out our top bath safety tips!
Open Up Rooms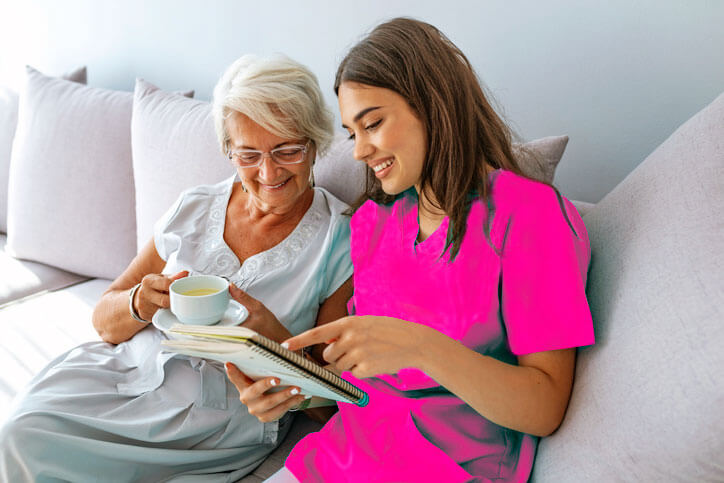 There are many benefits to an open floor plan, such as more light and the illusion of more space. Both of these things are incredibly important in helping your loved one adjust to having a new roommate. Consider knocking down the walls between the kitchen, dining area, and living room. This will create a more spacious home to accommodate a second person. Additionally, the added light can help alleviate the feeling of isolation and depression that individuals can experience with older age. Lastly, having an open space will make it easier for the caregiver to keep a close watch on your loved one and efficiently cater to their needs.
Convert Where You Can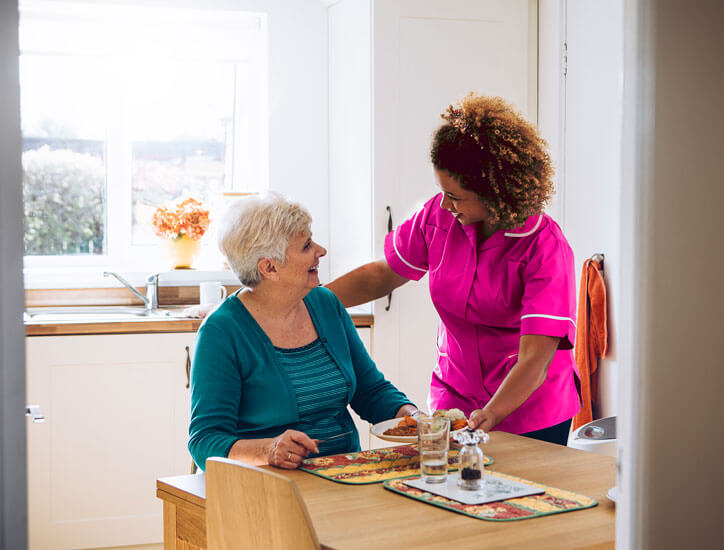 If you can afford it, creating more space to accommodate another person is the easiest and most effective choice. You don't necessarily need to bring in a crew of contractors to expand the structure of the home. If there already is one, there is a great opportunity to easily convert a garage into an apartment for a caregiver. This can also be done with an enclosed front porch or back sunroom.
Opting for creating additional space will help your loved one feel as though they are not sacrificing any aspect of their original home. This will also allow their live-in caregiver to have a space that they can call their own. After all, willingly moving into someone's home can be just as emotionally and physically taxing on them as it is on your loved one. Creating an efficient space will provide the caregiver with a place to comfortably prepare meals and relax on their own time.
Create A Quiet Nook
Although this may seem contradictory to the previous suggestion, it is important to help your loved one maintain some privacy within the home. In general, humans require alone time in order to sustain healthy mental well-being. This will become even more of a necessity once your loved one is no longer living independently.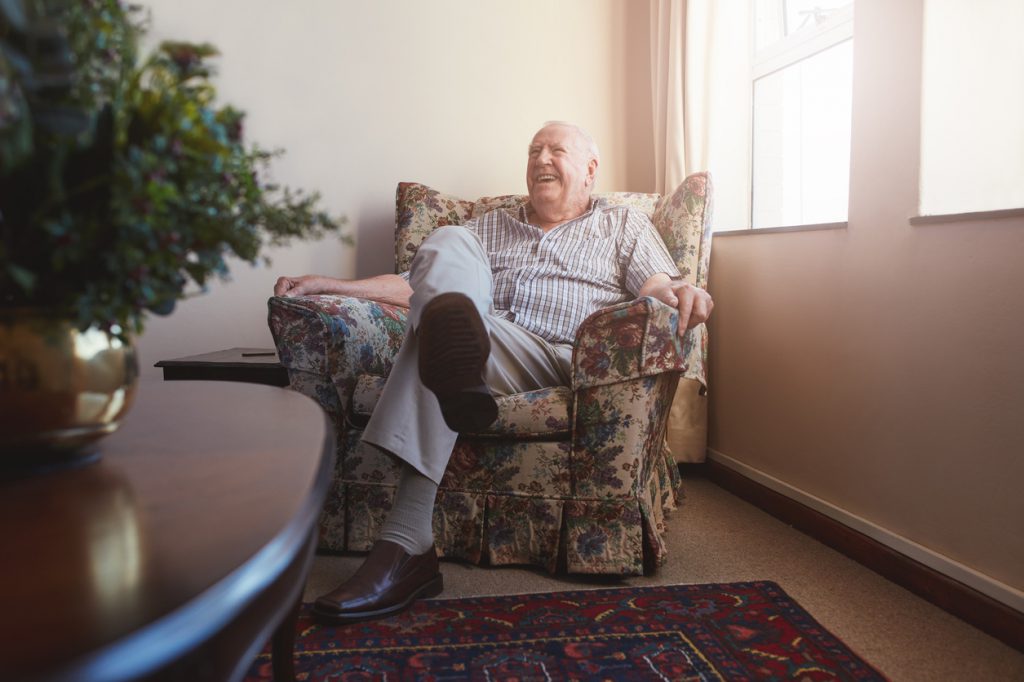 Transform an existing room, such as an office, into a cozy space for one to get peace and quiet for a couple of hours each day. If you don't have a spare room to convert, consider including a sitting area into your loved one's bedroom. Sectioning off a corner for a loveseat or cushy reading chair and ottoman can make their sleeping area feel like an entirely different room. This can prove vital to helping their house continue to feel like a home.
Are you exploring home care options for your aging loved one?
Give us a call toll-free at +1(877) 588-8609 to book a FREE Caring Consult!