What Is End of Life Care in a Home Care Setting?
Many people receive care in their homes as they approach the End of life. You will face many difficult decisions if you're faced with death, and those decisions will include what kind of care you'd like to receive and where you'd like to receive this care. You will also consider who will make decisions about your care should you not be able to make decisions yourself.
This article covers everything you need to know about End of life care and how to prepare for the inevitable.
What is End of life care (palliative care vs. hospice care)
When Does palliative care begin: signs you need care
Who provides palliative care
End-of-life planning
Caregiving in the final stages
Emotional support and spiritual supportive care
Priorities of End of life care
How long does it last?
Tips to cope with death and anticipatory grief
What is Considered End of Life Care (Palliative Care vs. Hospice Care)?
End-of-life care is a form of specialized care provided to patients living with life-threatening severe health conditions. End-of-life care supports patients in their last few months or years. The goal of end-of-life care is to provide care and comfort to individuals and help them live as well as possible until they pass with dignity.
End-of-life care is an umbrella term that includes hospice and palliative care.
Palliative care: is for anyone living with a severe illness at any stage, including the day of diagnosis, but is not necessarily terminal. Palliative care services are intended to help patients live more comfortably with their ongoing condition with pain and symptom management and curative treatments.
Hospice care: is for individuals with a terminal illness in the final six months of their life. Typically hospice care focuses on pain and symptom management rather than curative treatments. Doctors prescribe hospice care, which is thereby covered by Medicare, Medicaid, and most private insurance providers for eligible patients.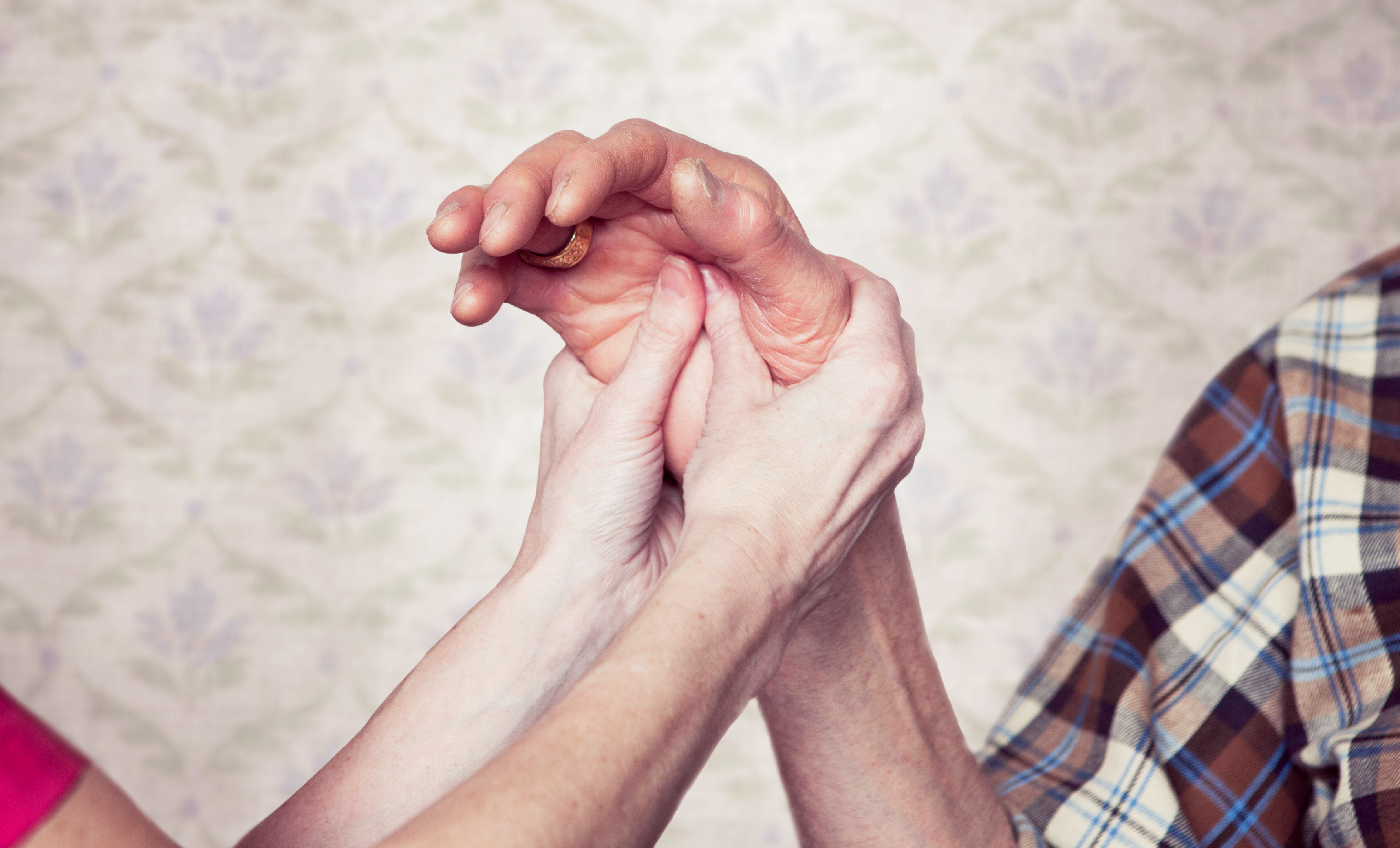 When Does End-Of-Life Care Begin: Signs Your Loved One Is Needs Care
End-of-life care typically begins upon diagnosis by a doctor or their medical team, likely to pass within the next 12 months. Usually, a life-limiting illness is a culprit, but many individuals are provided with end-of-life care due to aging and significant physical or mental decline.
Death can occur very suddenly or be prolonged for a while. Every end-of-life case is unique. For some individuals, the body can weaken while the mind stays strong, while others remain physically capable while their cognitive function declines tremendously. Everyone can have a different experience.
Patients begin end-of-life care at different stages of their illness. Some tell-tale signs and common symptoms can help identify whether your loved one needs end-of-life care. These signs could include:
Treatment is No Longer Working

If an individual has had a life-threatening acute condition caused by a sudden catastrophic event, such as an accident or stroke – it may be a sign of end-of-life care. If your loved one receives treatment for their terminal illness, but curative treatment is no longer working for them, many patients transfer into palliative or end-of-life care.

Types of care are determined by the individual, medical care team, and family members.

Illness Has Increased in Severity

If they have an advanced incurable illness, such as cancer, dementia, or severe cognitive disease, healthcare professionals might recommend end-of-life care as an option as they advance. Pain and symptom relief might be the best approach other than curative treatments at this stage of illness.

Symptoms Are Harder To Manage

The symptoms of the illness may be too severe to manage on your own. At that point, your medical care team may suggest an end-of-life care program. At Nurse Next Door, our greatest goal is to support you and your family's acceptance of your end-of-life care phase and to discuss any changing aspects of your care process openly and honestly.

They Are Frequenting the Hospital or Doctor Often

Individuals may frequent the hospital or doctor's office more often with a physical or mental decline. At that point, consider bringing in full-time home supportive care to help an individual at home. Depending on their care needs, healthcare professionals may recommend end-of-life care as the best approach to ongoing care.

Decreased Appetite

Has your loved one lost interest in eating food or drinking? This could signify that they are approaching the end of life. If this is the case, contact their primary caregiver or physician to determine the cause of the decreased appetite.

Mulitple Reoccurring Infections

When your loved one is suffering from multiple reoccurring infections, it could signify that they require end-of-life care or palliative care. If frequent infections are a regular occurrence, discuss these issues with your primary physician to learn how to move forward.

They Sleep More Often Than Not

If sleeping is their favorite pass time, it could be a sign that they are no longer interested in daily or social activities. At this point, it may be a sign that they need further care to support their next phase.

Their Physical or Mental Capacity Has Declined

Their bodies are generally frail and have co-existing conditions, which may mean they will pass within the year. They are not moving as they should, are experiencing muscle atrophy from sitting or sleeping frequently, are falling more often, have an extreme loss of balance, or are forgetting the basics – these could be signs that they need full-time palliative care at home.
Who Provides Palliative Care
Many healthcare professionals and people may support end-of-life care, depending on a person's healthcare needs. A care team could include doctors, nurses, health care aides, counselors, community nurses, family members, occupational therapists, etc.
If an individual is being cared for at home or in a care home, a GP has overall responsibility over their care. Community nurses also typically visit individuals at their homes, and family and friends may be closely involved in their care.
Nurse Next Door has a team of qualified nurses and home health aides who can provide end-of-life care and palliative care. Your caregiver and Nurse Next Door's comprehensive health care program team can discuss your end-of-life wishes and preferences with you or your loved one and take these into account as they work closely with you to plan your care program.
End of Life Planning
End-of-life planning is essential to ensure everything is addressed in the inevitable stage in which we tend not to discuss or think about much. It's necessary to clarify wishes, identify the medical team, choose the place of end-of-life care, address personal preferences, and record treatment in the final stage.
Planning for the end of life ensures everyone, including your family, is on the same page. It is also vital for those diagnosed with a terminal illness to discuss their feelings with their loved ones before the disease worsens.
Some tips for planning for end-of-life include:
Plan Ahead. Plan by discussing your place of care, treatment plan, pain, and symptom management, spiritual practices, memorial wishes, and preferences before it is too late. Consider hospice and palliative care services to transition to the next stage.
Sort Legal and Finances.Before a patient reaches a significant cognitive decline, it's important to sort out all legalities and finances before it is too late. Items including a living will, power of attorney, advance directive, and personal finances should be implemented.
Do What's Best for Them.If there isn't a living will or advance directive, do your best to support your loved one with what you know or feel their wishes are. Record conversations or jot notes that illustrate their preferences or views to the best possible extent.
Address Family Conflicts.Family conflicts are common in these situations due to stress and grief. Try to resolve any family tensions before your loved one declines. If you cannot agree on health arrangements, living wills, medical treatments, or advance directives, seek advice from a professional. Doctors, social workers, hospice specialists, or even our Care Team at Nurse Next Door can assist you going forward.
Communication Is Key. Communication is critical for end-of-life planning. Families should encourage conversations, openly discuss their concerns with their loved ones, and remain open-minded about their loved one's death preferences and choices – providing them with emotional comfort as much as possible.
Caregiving in the Final Stages
Caregiving in the final stages ensures a patient has as much physical and emotional comfort as possible. Typically caregiving in the final stages does not look to cure but instead focuses on the comfort and quality of life of a patient.
Depending on your needs and desires, you can receive end-of-life care at home or receive hospice services in a care facility. At Nurse Next Door, our Care Team will consider a patient's wishes and priorities carefully so that everyone is on the same page in the future. It is our goal to help you live with dignity and ensure we take all of your preferences into account, including the location of where you would like to receive care and where you want to spend your remaining days.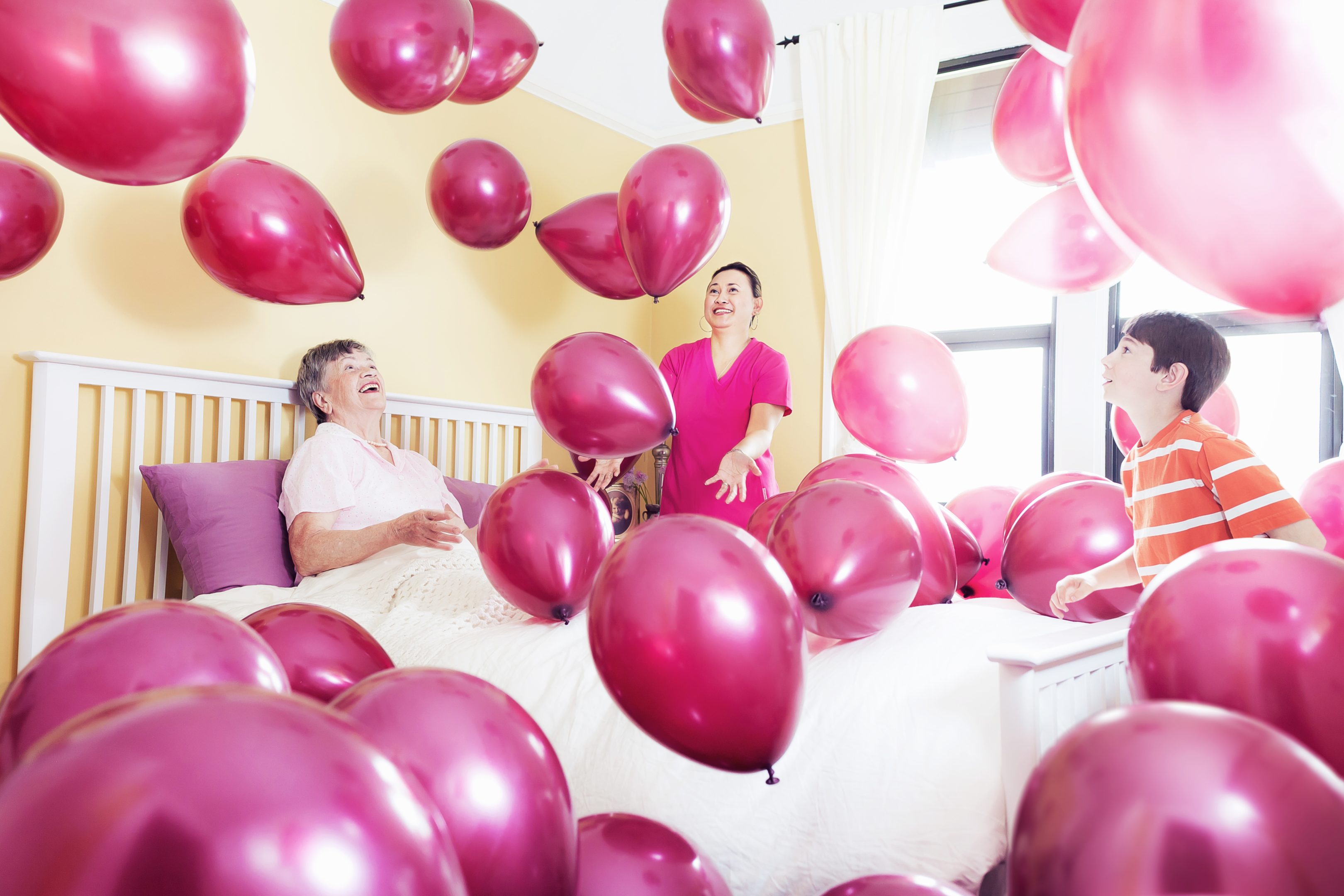 Emotional and Spiritual Support in the Final Stages
For individuals approaching the end of life, their emotional and spiritual needs may be as significant as their physical needs.
Spiritual needs may include:
Finding meaning in one's life.
Ending disagreements with others.
Making peace with life circumstances.
Many individuals seek spiritual support and find solace in their faith during this time. Reading, praying, talking to individuals from their religious community, or listening to calming music may support their spirituality during this stage.
Family and friends also play an essential role in the final stage. The presence of family members and friends can contribute to an individual's emotional support as they pass. Friends and family members can tell stories or recite memories, which can comfort everyone. A dying person might find comfort in resolving unsettled issues with friends or family. Visits from a social worker or a counselor could help with this.
Emotional support could mean different things to different people, but some ideas could include the following:
Tell them how much they've meant to you.
If a family member or friend cannot be physically by their side, they can send audio or video recordings of messages they want to leave with them.
Share memories of fond times. This can be comforting for everyone.
Hold their hands and physical touch.
Play their favorite films, or let calming music play in the background
Discuss the beautiful and good things in your life and how they've contributed to it. Your voice may serve as a source of comfort for them.
A good rule of thumb when entering their room while they are nearing death is to identify yourself to them. There could come a time when a dying person who has been confused suddenly thinks clearly again. This is likely a temporary occurrence, not a sign they are recovering.
A dying person could also appear to imagine someone or talk to somebody who isn't present; it's best to resist the urge to correct them. They may be experiencing specific hallucinations theorized to occur for several reasons, including cerebral hypoxia, confusion, body system failures, and stress-related mental reactions. Their dreams could have significant meaning to them and provide them with the space to experience whatever they wish on their terms.
What Are the Priorities of End-Of-Life Care
We recognize that the best end-of-life care is based on the understanding that this phase of life is natural and inevitable but can also put a tremendous emotional toll on you and your loved ones.
Nurse Next Door's main priorities are to maintain your comfort, respect your space, provide spiritual support and provide a holistic approach if you wish. We carefully explain the choices available to you and support your individuality to the best of our abilities.
At Nurse Next Door, we respect the psychosocial and spiritual needs of you and your family and aim to reduce any inappropriate and stressful decisions regarding your care setting, providing you with the option of home care whenever possible. Nurse Next Door's comprehensive healthcare team will look after your preparation for the end of life, and your relationships with your family members and healthcare providers, supporting you in achieving a sense of completion to the best of your ability.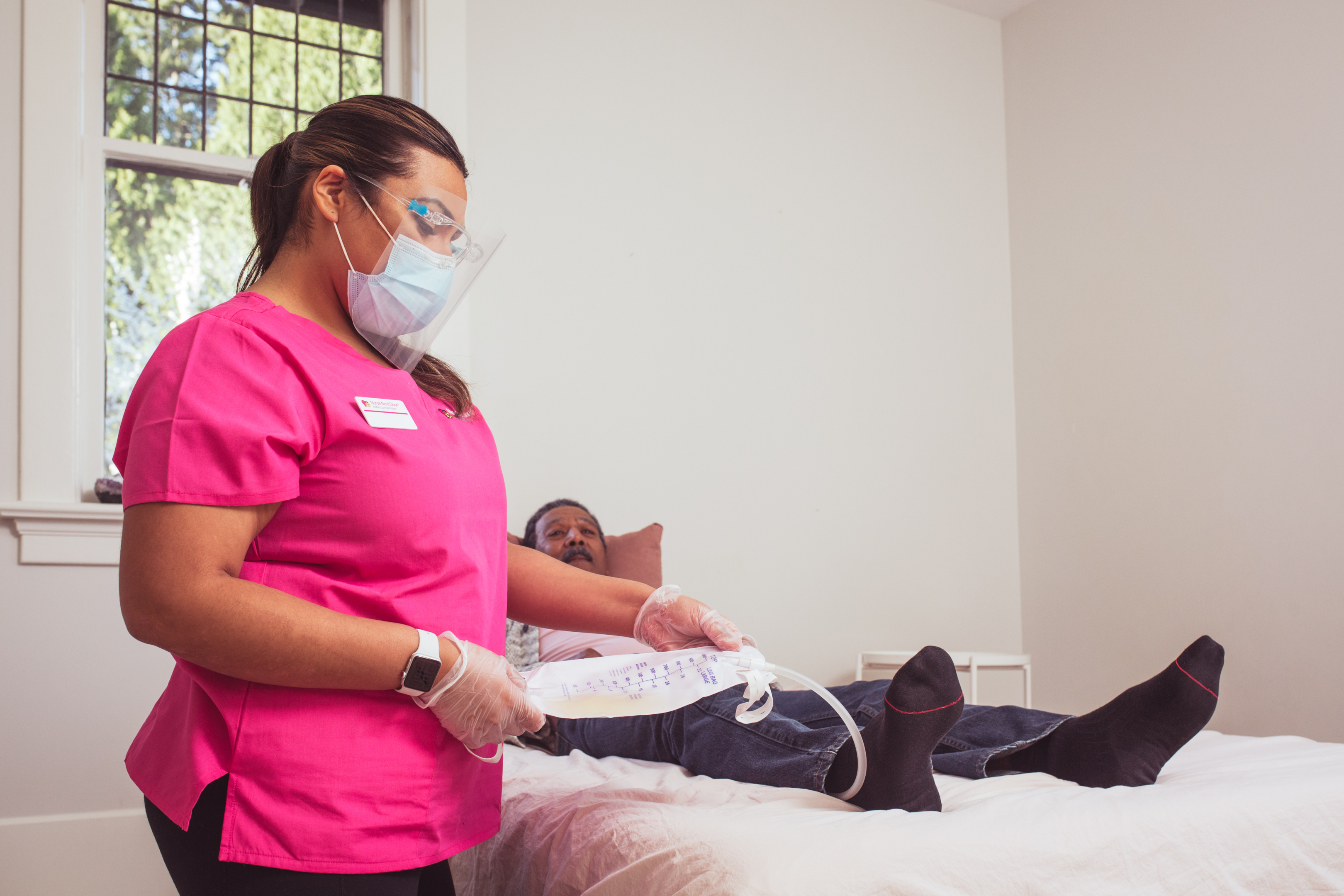 How Long Does It Last?
Research suggests that the end-of-life stage is when the bodily systems shut down, typically lasting for a few days to a couple of weeks. Patients differ; some die gently and peacefully, while others fight the inevitable.
The best thing you can do is to continue to be by your loved one's side, reassuring them that it is okay to let go.
Tips for Family Members on Coping With the Loss of a Loved One
If death is inevitable for your loved one, you may be experiencing anticipatory grief. It is quite different from conventional grief in that you share it with others while holding on to some hope at the beginning. Emotions of anticipatory grief can be quite painful, and we recommend seeking grief support during this time.
Here are some tips for family members to cope with the anticipatory grief of losing a loved one.
Allow Yourself to Go Through the Grieving ProcessTell yourself it is okay to feel what you feel. Let it be what it is. Grief is different for everyone. Do not judge yourself for grieving before your loved one passes. Palliative care or end-of-life care can tax the mind, body, and soul – be kind to yourself and show yourself some compassion when going through this process.
Express Your PainSeek emotional support whenever you can. Don't keep your emotions locked tight. Talking to a professional can help ease the pain and relieve symptoms of grief.
Spend Time With Your Dying Loved OneAs we grieve, we can pull away from those we love. Many of us tend to suffer in silence. Don't let this happen. Spend as much time with your dying loved one as possible.Visiting them might be a painful reminder of what you may lose, but don't avoid it. You will regret not spending as much time as possible with them while you still can.
Consider a RetreatIf possible, consider going away on a grief retreat to heal and cope with the dying process. It's never easy to conclude that your loved one is nearing the final chapter and there are no curative treatments. Give yourself permission to find community support and retreat if you need to.
Consider a Holistic ApproachConsider holistic methods when grieving. Try journaling, meditating, art therapy, sound therapy, and communing with nature. Many also seek solace in their faith during this time.Let yourself grieve on your own terms.
The end of life is inevitable, but it is never easy. It is part of life but can be very scary. At Nurse Next Door, our greatest goal is to support you and your family's acceptance of your end-of-life care phase and discuss any changing aspects of your care process openly and honestly. Most importantly, we guarantee you will never be alone.
Call us at 1-877-588-8609 today for more information on how we can support you during this time.
"We have been receiving service for my mom from Nurse Next Door and couldn't be any happier. We have never felt any safer than now since we know she is in good hands. This team feels like family." – Kamelia Asadi
"Nurse Next Door has been providing care to my now 102 year old Dad since 2018. My Dad and the rest of our family are very pleased with the courteous and gentle care extended to Dad by the various attendants who have visited our home. The attendants treat my Dad with dignity and respect and that is very much appreciated by us and more so by Dad. Thank you NND." – Marilyn Thijs-Farnum