Risk Factors for Pancreatic Cancer You Should Know
Did you know pancreatic cancer is seen predominantly in seniors? Studies show that almost 70% of all diagnoses are of people aged 65 and above and the illness peaks between the ages of 70 to 79.
The pancreas is that is located behind the lower part of the stomach. It is responsible for producing enzymes used in the digestive process. It also produces insulin, which regulates blood sugar. When cancer in the pancreas occurs, it can be particularly dangerous because it typically spreads quickly to surrounding tissues. Unfortunately, it isn't caught during the early stages very often. Knowing the risk factors and symptoms may help you to identify a problem before it's too late.
Risk Factors for Pancreatic Cancer
Pancreatic cancer occurs when changes in the DNA of cells in the pancreas cause them to grow in an uncontrolled manner. These altered cells also live longer than they should, which causes them to accumulate and form a tumor. Most cases of pancreatic cancer start in the lining of the ducts. However, it can happen in the cells that produce hormones.
There's no known cause for pancreatic cancer. However, doctors have identified some risk factors that increase the chances of developing the disease. Some of the risk factors are:
Pancreatitis, which is long-term inflammation of the pancreas.
Diabetes.
Having other family members who have had pancreatic cancer.
Smoking.
Obesity.
Being age 65 or older.
A family history of certain genetic syndromes.
Studies show that people who smoke, have had diabetes for a long time, and don't eat well are at the greatest risk for getting pancreatic cancer.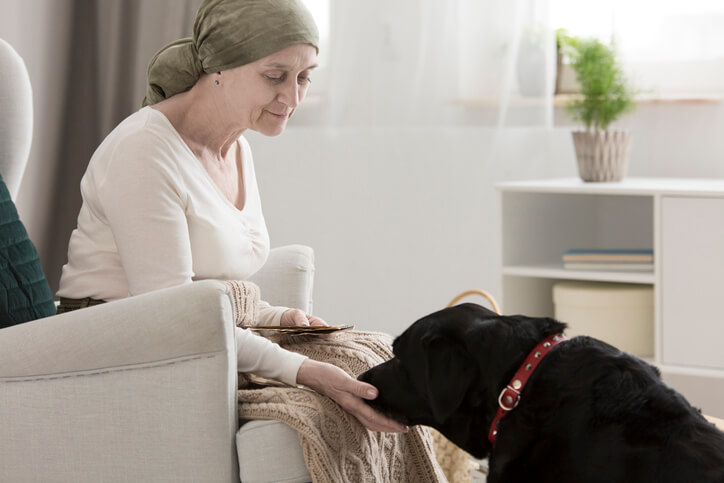 Symptoms of Pancreatic Cancer
The symptoms of pancreatic cancer don't typically appear until the disease is in advanced stages. When symptoms do occur, they may include:
Pain in the upper part of the abdomen that spreads into the back.
Unexplained weight loss.
Lack of appetite.
Depression.
Newly occurring diabetes.
Blood clots.
Fatigue.
Jaundice, which is a yellowish tint to the skin or whites of the eyes.
If you notice any of these symptoms in your older family member, report them to their doctor. Because these symptoms are common to other illnesses as well, the doctor will likely examine them for other conditions in addition to pancreatic cancer. We also have some best practices for those providing care for their loved ones who are battling cancer.
Home care services can assist older adults who have been diagnosed with pancreatic cancer. A home care provider like Nurse Next Door's Caregivers can allow them to rest while they help with household tasks, such as cleaning, cooking, making beds, and doing laundry. Home care providers can also offer transportation to medical appointments, including chemotherapy and radiation treatments. And, a home care provider can help to alleviate the uncomfortable side effects of treatment, such as nausea and difficulty eating.
Nurse Next Door believes you can stay at home. 

If you're wondering how our caregivers and nurses can work with cancer patients, give us a call at toll-free at +1(877) 588-8609, we're available 24/7.