What Types of Senior Care Options Are There?
When you think of senior caregiving locations, do you imagine a regular living room, an aging apartment, a medical facility, a house filled with equipment, or something else? Whether or not you've experienced professional health care with a loved one, everyone has different expectations.
There are advantages to each type of senior care. But they're all very different, and the cost ranges greatly by state or province and by the resources and level of care needed. When you're deciding which option is best–whether it's a parent, spouse or grandparent–the most important factor is quality of life.
We've put this article together so you can compare.
Types of senior care
Adult Day Care
Seniors get access to social activities in a supervised environment. Like day care for children, this service allows the senior to leave the home during daytime hours while the spouse or family works or runs errands.
Assisted Living
If you can imagine an apartment building with additional amenities and health resources, that's assisted living. This option provides minor to moderate support for seniors who aren't quite ready for long term care.
Home Care
A nurse or caregiver can help the senior at home. They focus on simple daily tasks like cooking, cleaning, shopping and companionship, or responsibilities like hygiene, administering medications, monitoring vitals, and driving the client to doctors' appointments. Over 90% of adults over 50 prefer to age in the comfort of their own home.
Nursing Home
For round-the-clock care in a community facility, the choice has traditionally been nursing homes. The individual no longer lives at home, but has access to skilled care and nurses in a medical environment.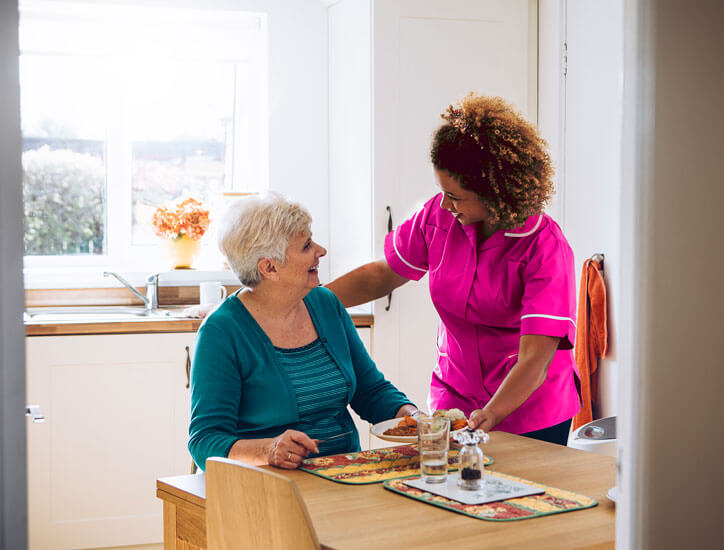 Advantages to Senior Care
Adult Day Care
This option often provides scheduled group activities in a social setting. This allows seniors to get out and engage in socialization and still be able to live at home.
Assisted Living
While this means moving away from their home, assisted living lets seniors access gradually increasing levels of care if necessary. Seniors live amongst the assisted living facility; It provides a sense of community and still fosters independence as you have the option to live in your own unit while enjoying community functions and services. 
Home Care
Seniors receive any level of physical, mental, and social support at home to avoid major interruptions to everyday life. 
Nursing Home
These facilities are fully equipped and can provide 24 hour medical care. There are staff around-the-clock and clients are well looked after.
The Cost of Senior Care
Cost varies based on the level of care needed, the amount of resources required, and your location. The numbers here are based on US averages with research conducted by GenWorth.
Adult day care – $1473/month

Assisted living – $4051/month

Home care – $4385/month

Nursing home (semi-private room) – $7513/month

Nursing home (private room) – $8517/month
At Nurse Next Door, we believe you can stay at home. Talk to your loved ones about the benefits of a personal nurse or caregiver to help make it a safer, happier place. 
If you're interested in-home care, book a 15 minute call with us today to learn how Nurse Next Door can support you.