The Ultimate Skincare Routine for Aging Skin
Aging is a natural process. From career successes to newly found freedoms, maturing can definitely have its perks. The most visible effect of aging is reflected on our skin. Whether you're battling fine lines, dark spots, or sagging skin, there's no denying that your skin is starting to change. 
Before you invest in over-priced products to treat your aging skin, first consider what steps are most essential for your skincare regimen. Although the products you choose to incorporate will differ from person-to-person, we highlight an effective aging skincare routine.
1. Gentle Cleanser
Using a cleanser twice daily is a critical step for everyone, no matter what age you are. As you get older, however, it's important that you avoid using a cleanser that strips your skin of its natural oils, especially if you're already experiencing dryness or irritability. Instead, focus on finding a gentle cleanser to wash your skin with both morning and night. Make sure that you evaluate the ingredients of your cleanser to ensure that it's suitable for your skin type. This will ensure your face is cleansed properly without any irritation.
2. Toner
Once you've finished cleansing, pat your face dry with a towel and get ready to apply a toner. Typically, toners come in the form of a liquid and can be applied as a spritz or applied with cotton pads. Like the cleanser, the purpose of a toner is to remove any additional residue that didn't come off from cleansing. Along with this, toner also works to restore pH levels of your skin, which helps balance your skin. For best results, put toner on while your face is still damp from washing. A little water will make it easier for your skin to absorb the moisture from the product.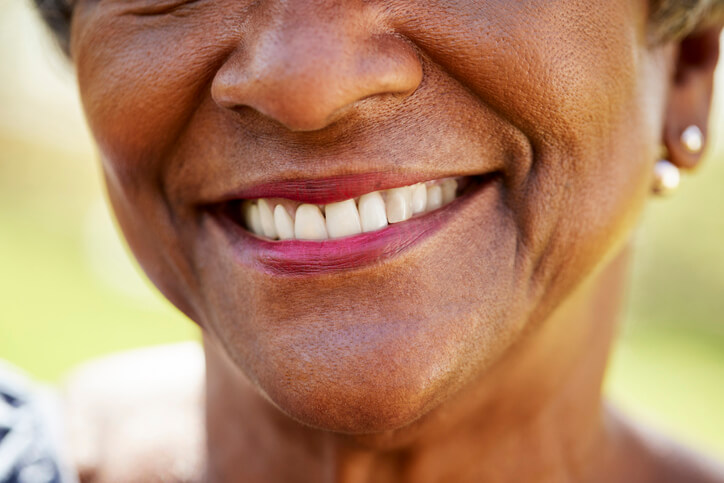 3. Serum
Finding the right serum for your complexion is all about assessing your skin type and understanding how certain skincare ingredients can affect it. Having this knowledge will give you the right idea of which ingredients you'll want in your serum. Vitamin C, hyaluronic acid, and vitamin E are highly effective solutions for the skin as they work to build collagen and absorb the environmental and biological oxidative stressors that cause aging skin. These have brightening and moisturizing effects. As a result, your skin will look and feel smoother, softer, and brighter.
Here is Youtuber beauty guru SixtyandMe sharing her thoughts on Vitamin C and hyaluronic acid!
4. Retinol (vitamin A) cream
Face creams for aging skin are another powerful way to preserve your youthful glow, especially if they contain retinol. Derived from vitamin A, retinol is a powerful skincare ingredient that works to reverse signs of aging by plumping skin and reducing moisture loss. You may find this ingredient in certain serums, however, topically applying it in the form of a cream is often preferred by people with dry, sensitive skin because it serves to support hydration. Specifically, using retinol (vitamin A) anti-aging cream will help encourage cellular turnover and shed off dead skin cells, all while protecting your skin's natural barrier. So rather than skipping over this treatment, pair it with another type of serum that can impact a different area of your skin. This will allow you to reach your skincare goals more efficiently. 
5. Moisturizer
The older you get,  the less sebum your skin produces. To some, this is exactly what you've been waiting for; a chance to finally grow out of your acne years. To others with already dry skin, less sebum may result in flakier, itchier skin. Regardless of how you categorize your skin type, you should always incorporate a moisturizer into your daily skincare routine. From scented body lotions to creams and ointments, there are a variety of products to choose from. Still, when it comes to your facial skin, it's recommended by health experts to stick with a fragrance-free moisturizer as they generally tend to be more effective than other scented products. To treat aging skin, you should also look for a moisturizer that's formulated to stimulate skin renewal and revive skin tone. After you've determined your moisturizer, apply a small dabble of it onto your clean hands and lather up your face and neck.
Here is Youtuber beauty guru SixtyandMe sharing her favorite moisturizers for mature skin (all priced under $15!).
6. Sunscreen
Having beautiful, sun-kissed skin may be something you've always strived for, but how far would you go to attain it? Even though the sun is a good source of vitamin D, too much exposure can be detrimental to your skin. UV safety is important for any age. Besides severe sunburns, excess sun exposure may lead to dark spots, fine lines, and worsen skin conditions like melasma, rosacea or even skin cancer. Needless to say, sunscreen needs to be an essential step in your aging skincare routine. There are other options for natural lifestyles too.
You should apply this in the morning after your moisturizer but before your makeup. For ultimate protection, use a sunscreen that contains an SPF of at least 30. This will guarantee that your exposed skin will remain shielded from the harmful ultraviolet rays (UV) throughout the course of your day. Still, be sure to reapply if you're swimming, sweating, or planning on spending long hours outside, even if it's cloudy outside.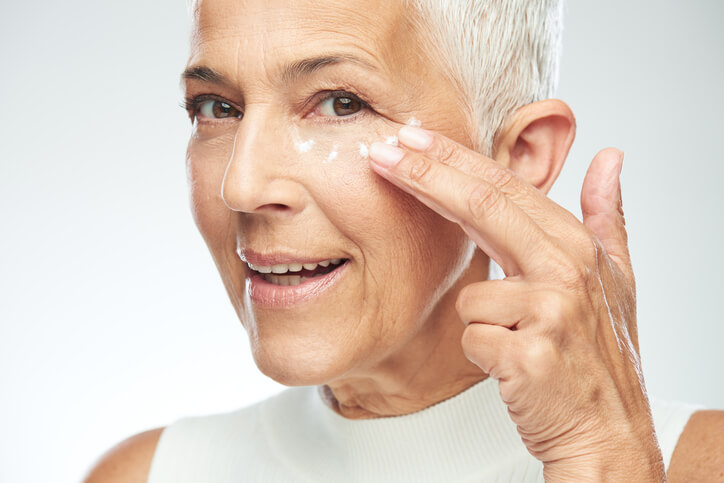 7. Eye cream
Unlike other areas of your skin, the skin in your eye region is arguably the most delicate. Beyond that, it's also one of the first places you'll start to notice visible signs of aging. That's why you must find adequate eye cream to use daily. Targeted eye creams are designed to brighten and hydrate your eyes, which in turn may reduce the appearance of wrinkles, fine lines, under-eye bags, and dark circles. Just be careful to not put too much on at once because a little goes a long way. To prevent yourself from overusing, add a pea-sized amount of eye cream onto your ring finger after you've finished moisturizing, then apply on and around your eyes. 
Note: Eye cream should be the last step of your skincare routine at night, but the second to last step in the morning, just before the sunscreen.
Feel free to check out different reviews online for the right products that will suit your skin type! If you're not sure, consider consulting with your physician or dermatologist. Most of all, remember you are beautiful, no matter what age!
Nurse Next Door's Happier Aging philosophy is all about living your best life. Be sure to check out our Caring Blog!