How to Take Care of Yourself When Caring For Someone With Alzheimer's
Written by: Mark Overcash, Owner of Nurse Next Door York County
A diagnosis of Alzheimer's can be devastating to an entire family. Often family members and spouses will scramble to take care of all of the Alzheimer's patients needs and wind up neglecting themselves. It's only natural to want to do all that they can to help their loved one. Unfortunately, this can take a serious toll on family caregivers' well-being. We have previously highlighted caregiver depression symptoms to look out for. We also recognize that there are many different options for getting help with a loved one that has Alzheimer's. These important tips can help family members to take time to take care of themselves when they're caring for a family member that has Alzheimer's Disease.
Stay Organized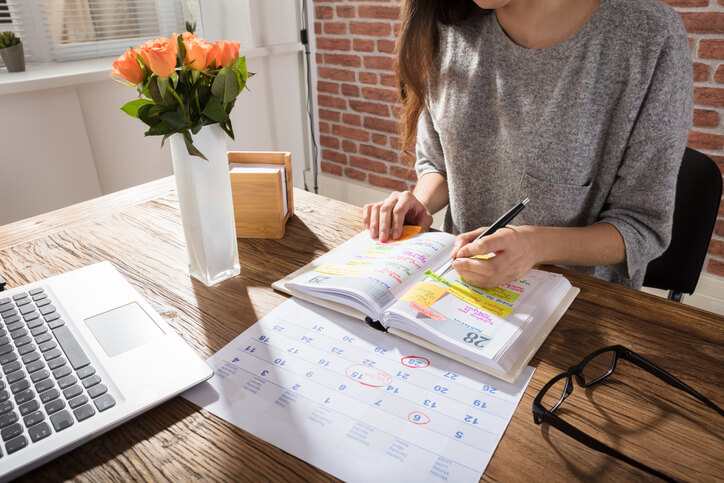 Between daily medications, dietary needs, notes from doctor's appointments, and insurance records, there is a lot to keep track of on a daily basis. Create a centralized binder or use a free online tool like Google Keep or Microsoft OneNote to keep everything organized. This will go a long way to help you lighten the load and stay on top of things. It also simplifies the process if someone is stepping in to help when you're not available.
Find Ways to Mass Communicate
Oftentimes, other family members will want to be updated on the health of your loved one with Alzheimer's.  Sending updates to multiple people at once via email or group text can be an efficient way to keep people in the loop without spending hours on the phone. Websites like CaringBridge can also facilitate this sort of communication.
Live in the Moment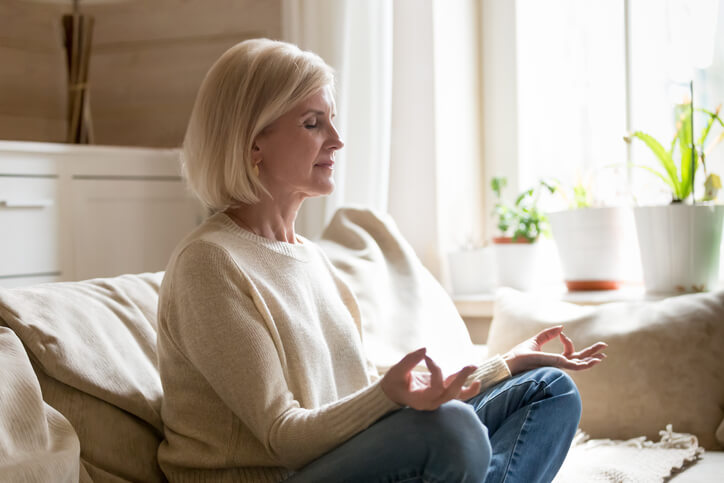 Each day, make a conscious effort to take deep breaths, listen to uplifting music, reflect in gratitude, and even find the humor in things.  As frustrating as some days may feel, taking deep breaths helps ground and center you, clear your mind, and keep things in perspective. Paying attention to your mental health and emotional well-being is critical to get through demanding days.
Ask for Help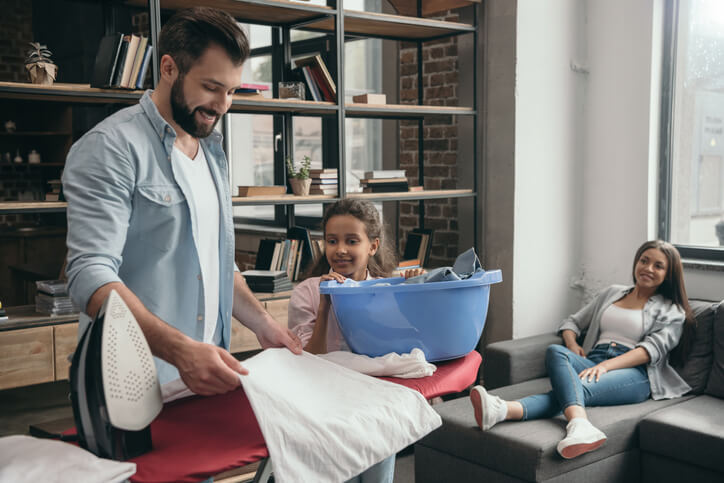 If the stress of caretaking is taking a toll on your heath, reach out to friends and family who may be able to help.  Let them know what support you can use and you may be surprised by the response. Sometimes, something as simple as having a neighbor go on a 20 minute walk with your loved one can give you a break to take care of your needs.
Consider In-Home Alzheimer's Care
In addition to family members helping the loved one, consider a senior home care agency that will come into the home and take care of the Alzheimer's patient. This in-home care may be on a weekly basis, a few days a week, or every day of the week depending on the particular needs of the family.
During the time that the in-home caregiver is available, be sure to take time for yourself. Whether it be running errands, getting a massage, taking an uninterrupted nap, or simply enjoying some private time this is a time that should be used to rejuvenate and refresh yourself.
Respite Care Can Prevent Caregiver Burnout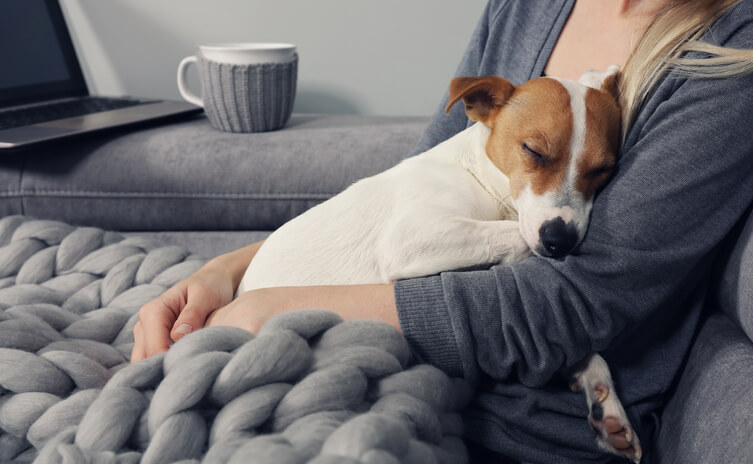 Senior home care agencies also offer respite care. This is when a caregiver comes in on a temporary basis and tend to the Alzheimer patient's needs, allowing the family members to take a much-needed break. This can be an "as needed" time frame, or scheduled for once or twice a month as required by the family. This way the family caregiver will have a set time to themselves to recuperate and avoid caregiver burnout.
Why Choose A Senior Home Care Agency?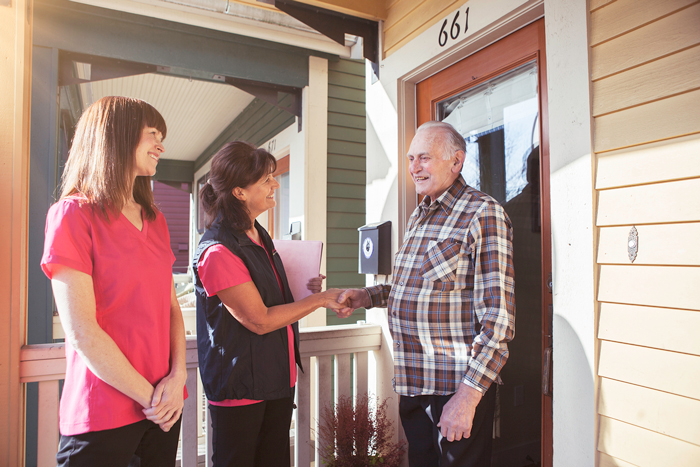 Senior home care services have already vetted caregivers. They have made sure that the caregiver is fully licensed and trained and has any extra training that may be required for the specific situation at hand. Your Nurse Next Door Care Team gives special attention to match caregivers to families that they will work well with.
Caregivers are trained and insured professionals who know how to react and respond to different situations and what to do in case of an emergency. They have ongoing training to ensure that they are up to date on the latest technology and responsibilities, as well as specialized memory care situation handling.
Senior home care agencies also take care of paying the caregiver so you never have to worry about money crossing hands when you've hired them. The agency takes care of all of the taxes and insurance so that you are able to relax and enjoy your loved one without having to stress overbilling. This can be a huge relief to family members who are already overwhelmed with responsibility and need a break. Learn more about the difference between a home care agency vs private caregivers.
Self Care While Caring For Others
One of the most important things that families need to do if they have a loved one with Alzheimer's Disease, is to take care of themselves. It's easy to lose sleep because the Alzheimer's patient is wandering around the house all night (having Sundowner's symptoms); rearrange things or can't find the bathroom when they need it.
It can be very stressful taking care of an Alzheimer's patient. Many people have special needs and will require around the clock care. Most family members aren't prepared to give care around the clock care and can end up overwhelmed and exhausted. Their own health will quickly be at risk due to lack of sleep and proper nutrition.
This is a very precarious time for the Alzheimer's patient and their family. Tasks such as bathing or tending to toilet duties can be more challenging for a family caregiver. This is why hiring an in-home senior home care agency can relieve the family of some of these responsibilities and make it easier for the family to take care of one another without added stress.
Even just a few hours a day or week can go far in helping family members take care of themselves when caring for someone with Alzheimer's disease. Those few hours can be used to rejuvenate and restore their own personal balance, rest up and eat a nutritious meal. Senior home care providers offer excellent services and are very affordable, some insurance companies will pay all or at least a portion of such services.
If you find yourself feeling overwhelmed, losing sleep, experiencing appetite changes, or not enjoying things that you once did, it may be time to call in reinforcements.  Call us today for a complimentary Caring Consult in your home to discuss a customized Care Plan to care for your loved one and let you recharge for the long run.
Nurse Next Door lets daughters be daughters. To learn more about our caregiver relief services, call us toll free +1(877) 588-8609 and let us support you today.