What is the Difference Between Home Care and Home Health Care?
Seniors, people with disabilities and those recovering from surgery or illness can often benefit from in-home support. Choosing the right services starts with understanding the two main options available, home care and home health care.
Despite having similar names, there are some major differences between these two options. Below you'll find in-depth information about home care and home health care, what each service provides, and tips on deciding which service is best for yourself or your loved ones. Both these services offer 24 hours care as well as live-in care.
Click to scroll:
What Is Home Care?
Home care is non-medical assistance that is generally provided by caregivers who are background-checked and trained as a care aide, nursing aide or personal support worker. Home care services are available on an hourly, daily or live-in basis depending on the needs of the client.
Home care workers provide a wide range of services that are geared towards the unique needs and preferences of each senior. Home care aides can:
Perform regular wellness checks

Transport seniors to medical appointments, errands and community events
Help with grocery shopping and meal preparation
Do light cleaning and laundry

Assist with pet care

Accompany clients on walks in the neighborhood

Spend time socializing with clients over a game of cards, a puzzle or a cup of tea
Home care aides can also help with activities of daily living, or ADLs. This includes assisting with personal grooming, dressing, bathing and using the toilet.
Our home care services range from Transportation to Grocery Delivery. Give us a call today toll-free at 1-877-588-8609!
What Is Home Health Care?
Home health care is a specialized type of health care delivered by licensed medical professionals such as registered and licensed practical nurses, physical and occupational therapists, and physicians. Medical social workers, speech therapists and counselors also can provide in-home health care.
This type of care usually requires a doctor's referral. Home health care may be recommended as part of a treatment plan for patients recovering from a major surgery, illness or other serious medical issue. Some people rely on home health care services to help them safely transition back home after a period of hospitalization, stay at a skilled nursing facility or treatment in a rehabilitation center.
Home health care services are usually time-limited and designed to meet specific treatment goals. A home health care professional may be assigned to a patient who requires IV therapy or wound care, is learning how to manage an ostomy, or needs in-home hospice care. Home health care professionals may also work with patients who are medically-fragile and unable to safely travel to a medical clinic or outpatient hospital for care.
Examples of services provided by home health care professionals include:
Changing sterile and non-sterile dressings

Monitoring vital signs

Providing patient education

Administering IV and IM drugs

Assisting patients with rehab exercises

Removing stitches and sutures

Performing foot care

Evaluating patient safety
While some home health care providers may offer some assistance with activities of daily living, in general, these professionals focus on delivering medical services only.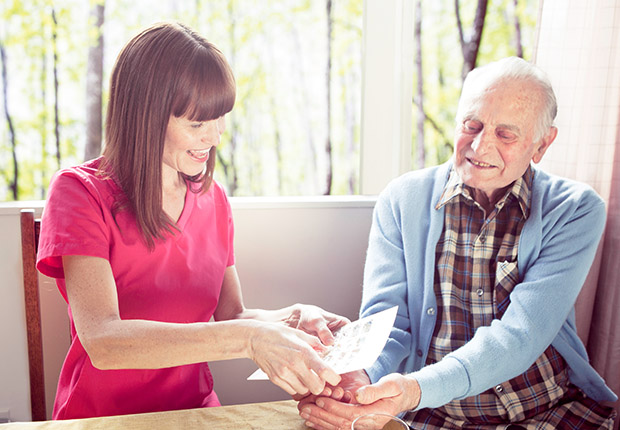 What Service is Better – Home Care or Home Health Care?
Both types of care can dramatically improve the health, wellness and independence of those who need extra support to stay in their own home, however, there are some major differences to consider.
Because home health care is delivered by licensed medical professionals, it generally costs much more than home care. Additionally, the scope of practice is limited to medical services, which means this type of care doesn't include assistance with day-to-day activities such as shopping, cleaning and meal preparation. Home health care is best suited to individuals who have specific medical needs that can be safely managed outside of an institutional setting.
By comparison, home care is significantly more affordable than home health care, making this type of care accessible to a wide range of individuals. Home care services provide in-home support that is focused on helping clients retain their independence by addressing daily living needs such as nutrition, personal care and social connection.
In many situations, the best solution is a combination of both service types. A home health care nurse may be used to manage medical needs, while a home health care aide can provide non-medical care and support.
Does Medicare Cover Home Care and Home Health Care?
Insurance coverage varies depending on location, income and medical need. Generally speaking, home health care is classified as medical care for insurance purposes, and these services are covered by Medicare and many private insurance policies when prescribed by a licenced physician.
Medicaid and Medicaid waiver coverage for home care costs differ in each state, and some long-term care insurance policies will pay some home care costs. Some Medicaid waiver programs will cover non-medical in-home care services if those services are shown to delay or prevent institutionalization of beneficiaries.
Often seniors and their loved ones find that paying for home health care on a private pay basis is far more cost-effective than relocating into a retirement home or similar facility. When combined with the fact that home health care services enable seniors and those living with disabilities to remain in the comfort of their own homes, it's easy to see why home health care is a popular option for many families. We also talk about the major differences between private duty home care & medicare/medicaid here.
To learn more about the difference between home care and home health care, contact Nurse Next Door. We provide home care services that can help seniors keep their independence while living life to the fullest. For franchising options and information on starting a home health care business visit our home care franchising website.
We also provide in-home nursing care. Give us a call today toll-free at 1-877-588-8609!